Music, Soundscapes and Radio Plays from late 1980ties and 1990 ties, when I was still young.
Cassette CORA compiled by Willem de Ridder late 80-ties, on double LP by Calax records, 2021
A by far incomplete list of audio works together with then partner Willem de Ridder with several other guest artists.
More about Willem de Ridder and how we met in this interview Willem did with Calax Records.
Home studio of Willem de Ridder, Amsterdam
picture: Wink van Kempen, late 80ties.
Let Us Storm
Willem de Ridder en Cora Emens first cassette together.
Published By Radio Art Foundation, Alexander Boersstraat 30, Amsterdam, Holland. Two musical landscapes from Ireland, Belgium, Holland and Inside..
Comes in an A5 carton box with artprint by Zintah and Tapes For Dying catalogue.
A "Fluxus/spontaneous" opera created by Willem de Ridder and Cora Emens-de Ridder from improvisations and field recordings of New York streets and subways. De Ridder calls himself "Wille de Riddle" on the cover and plays percussion, whistles and supplies vocal parts, Cora Emens-de Ridder offers "vocals, percussion, bass, inspiration" and they are joined by Ben Hollander Hessel Veldman and "Nicole". The computer graphic artwork on the box is by De Ridder.
Amsterdam: Staalplaat, n.d. (1985)
21.6 x 15.7cm. two part box with printed labels, drawer and two inserts – both 31.4 x 21.5cm plus standard audio cassette with printed titles on the plastic.
FNTC
FNTC started after the Holland Festival shows in 1985. Willem de Ridder and Hessel already started making radio programmes in the late seventies and early eighties: normal stories and fairy-tales for children. But also did sound and storytelling performances with musicians like Alvin Curran, Han Reiziger, Francis Marie Uitti and Jon Rose.
Cora Emens, partner of Willem, asked Hessel and Nick Nicole to join when she was asked for a making a sound-art-play. Willem started doing "singing" and making music. Nicole took her 'playing with objects' part. Hessel came out of his comfort zone, being a musician, and started chanting as well. The first release was called "Ei blot till list", a sound-art piece by Cora Emens, released by Confrontation tapes. This worked out so well that Willem, Cora, Hessel and Nicole decided to make more music together and perform at churches and other venues.
After this experiment our group FANATIC Willem de Ridder, Hessel Veldman , Nick Nicole en Cora Emens (de Ridder) was a fact. And FANATIC appeared more and more "on stage", doing strange perverse performances while audiences were blindfolded and/or confronted with extreme sound-sculptures. In 1986 the name was changed into F.N.T.C. and several music- and videotapes were released during the late 80's.
De Ridder produced the All Chemix Radio series transmitted by various radio stations in America, Canada and Australia. These narrative pieces were produced on the spot and include spoken word, field recordings and electronic sounds. Previously released on cassette in very limited editions, these pieces have now been released on vinyl by Slowscan for the first time. Eight radio plays have been mixed into four long pieces including collaborators such as Cora Emens, Stefan Weisser, Andrew McKenzie, Nick Nicole, Annie Sprinkle, Alvin Curran, Julia Romanov, William Levy & Hessel Veldman.
Encoded Message / Rabotnik
All Chemix Radio Series: Cassette 18.
Willem de Ridder: Encoded Message
Willem de Ridder, Cora, Hessel en Nick Nicole Veldman: Rabotnik
Radio Art Foundation.

"All Chemix Radio" is een dubbel-LP van kunstenaar Willem de Ridder uit 2020. Het is een publicatie uit de serie Slowscan, volume 49. De platen bevatten verschillende fragmenten van hoorspelen van Chemix Radio, ge-edit door Willem de Ridder. Artwork met dank aan Artkitchen Gallery, Amsterdam. Design: Johnny van de Koolwijk.
Oplage: 300
Tracklist
A1 "Two More Days For Gabriel"
Electronics – Stefan Weisser
Electronics, Voice, Engineer – Andrew McKenzie
Musician – Hessel Veldman
Voice, Noises – Cora Emens
B1 "Go For It & Kill All Memory"
Electronics, Engineer – Hessel Veldman
Noises – Nick Nicole (2)
Synthesizer – Julia Romanov
Voice – William Levy (2)
Voice, Noises – Cora Emens
C1 "Zombie In The Closet"
Electronics, Engineer – Alvin Curran
Voice – Annie Sprinkle, Cora Emens
D1 "This Is Not true"
Voice, Electronics, Noises – Hessel Veldman
Voice, Noises – Cora Emens, Nick Nicole (2)
Dubbel-LP: Slowscan 49 (300 copies)(2020)
Tape with offset printed and specially folded cover housed in a series specific PVC jacket with screen-printed silver text on the outside. Black unlabeled chrome tape.
A live recording of FNTC's famous 3 dimensional hearplay. During this performance the audience was blindfolded and stretched out on couches. The sound came from all sides.
Recorded and mixed in the summer of 1986.
Use headphones while laying down.
Opera has been featured in the All Chemix Radio Series and has been broadcasted by Stations in Canada, USA, Australia, Germany and The Netherlands.
RE
All Chemix Radio Series cassette #6 (ca 1985).
Aida (27:10)
Cora Emens: voice & singing
Willem De Ridder: voice, electronic sounds & library tapes
A pregnant Cora is about to give birth to the child she's having with Willem De Ridder. Note they are at home, not in a hospital, but a nurse is helping. She previously recorded her soothing voice and the song is being played here while the couple is awaiting the child. Heavy breathing is heard along heartbeat sounds while Cora eventually goes through the throes of childbirth (switching to dutch language). Willem is taking polaroid photos of the process. Later, after Cora actually gave birth, we hear a baby crying. Rerecording technique and montage allows the event to be summarized in 30 mns. Anyway, this is unlike anything I've heard before or after. Totally unique and breathtaking.
Two More Days (29:23)
Hessel Veldman: guitar intro
Z'ev: six k7 players w/ industrial sounds
Cora Emens: voice
Willem De Ridder: voice and singing
Ashort car trip brings Cora & Willem to a suburban slaughterhouse area. Industrial scraping sounds abound, courtesy of US percussionist Z'ev. The couple's conversation will eventually lead them to fall apart. We are in Eraserhead territory – a paranoid journey in an industrial soundscape.
Walk To Waha (29:25)
Nicole and Hessel Veldman: electronic & sound effects
Cora Emens: field recording
Willem De Ridder: field recording
Psychogeographic meandering across neurotic belgian areas in paranoid mood. A road movie for the ear complete with footsteps sounds, protagonists comments, engine noises. Very nice electronic sounds by Nicole & Hessel Veldman. The latter ran the Exart Cassette label during the 1980s. Go to this radio show to listen to some of his k7 releases. Also a member of Y Create and FNTC (with Cora, De Ridder & Andrew McKenzie).
More All Chemix Radio Series Releases with Cora
Just Relax Girl
Paganini's Grave
Volcano Dance
Another Day Another Depression
Kali
Fly
More on the Concertzender
FNTC on Video
Radio Artivity
massive sound eruptions
Radio Artivity is a multi dimensional sound work and radio play, based on recordings made by Hessel Veldman, Willem de Ridder, Cora Emens and Nick Nicole between 1985 and 1990.
Recorded in real time, round the living room table, at the EXART studio in IJmuiden; The Netherlands.
Willem de Ridder: field-recordings, voices + ordinary objects.
Hessel Veldman: real time sound manipulation, mixing and composing; using field-recordings and all kind of instruments + voices.
Cora Emens: voices + ordinary objects.
Nick Nicole: voices + ordinary objects.
Concert Zender (radio)
In deze uitzending aandacht voor Fluxus kunstenaar, tijdschriften maker en verhalenverteller Willem de Ridder. Twee uur lang nemen we u mee door Willem de Ridder's audio-archief, met soundscapes en experimentele hoorspelen.
1. Willem de Ridder. Flagula (radio-edit). 11:30.
2. Willem de Ridder. Zombie In The Closet. (Alvin Curran, Willem de Ridder, Cora Emens, Annie Sprinkle) 18:51. LP: All Chemix Radio. Label: Slowscan.
3. Fanatic. Europe In Flames. (William Levy, Willem de Ridder, Hessel Veldman, Cora Emens, Nick Nicole) 5:30. (Audiosphere exhibition Museo Reina Sofia; Madrid – edit) Cassette: Neuropa. Label: Exart.
4. FNTC. The Fly. (Willem de Ridder, Cora Emens, Hessel Veldman, Nick Nicole) 24:59. (unreleased)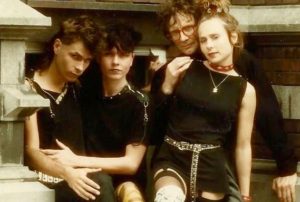 5. FNTC. Opera part 1. (Jon Rose, Willem de Ridder, Hessel Veldman, Ben Balance Uijtjens, Cora Emens, Nick Nicole) 31:04.
Cassette: Opera. Label: Staalplaat. (foto: FNTC)
6. FNTC. Eronatic. (Willem de Ridder, Cora Emens, Nick Nicole, Hessel Veldman) 19:28. (unreleased)
7. Willem de Ridder. De Ridder Synthphonie. (Willem de Ridder, Armeno Alberts, Yeapsystar, Dread Rat (remastering), Paul op de Weegh, Cora Emens, Mister Philly, Hessel Veldman) 7:41.
Recorded live @ de Willem Twee Toonzaal in 's Hertogenbosch. (unreleased)